Like any new business, a modern accounting firm needs a lot of work to habituate an efficient working structure. When starting out, you need to determine many aspects of your business.
From finding modern names for accounting firms to hiring fresh talent, the checklist is quite long. Before talking about running and managing a modern accounting firm, let's find out if it's the right option for you.
Is Running an Accounting Firm the Best Option for You?
If you want to build a successful career in the financial sector, your calling might be to start an accounting firm. Unless you have expertise in finance and fintech, running a modern accounting firm will come with a steep learning curve.
Like any business, an accounting firm demands entrepreneurship skills. If dealing with finance and a team of professionals excites you, an accounting firm is the right option for you.
In what follows, let's look at the five steps crucial to running and managing a modern accounting firm in 2022.
5 Steps to Run and Manage a Modern Accounting Firm
Step #1: Focus on Customer Satisfaction
An accounting firm works with different businesses and entities. Naturally, the success of your firm depends on the success of your clients. If your services add value to your clients' businesses, you would earn absolute credibility and better leads.
All your processes must take into account clients' ease-of-use and easy integration with their preexisting systems. Focusing on client experience means taking care of everything from payment channels to intuitive user interface. Neglecting these factors, big or small, would have an adverse effect on your firm.
Remember, in 2021, there are alternatives available to every service provider. The situation is nothing different with accounting firms. If you do not prioritize your customer experience, they will soon shift elsewhere.
Step #2: Recognize Your Target Market
When you are selling an everyday item, your target market may vary a lot and might include everyone from kids to working professionals. The situation is not the same with a modern accounting firm. You are offering a specialized service for specific businesses.
Not knowing your target audience will cost you both money and effort.
Targeted advertising can skyrocket your business in no time. It is only possible when you know your target customers. Using social media analytics is one of the easiest ways to identify your target clients. In any modern business, untargeted promotion is a waste of time and money.
Step #3: Put Together a Competent Team
No business is built in isolation. You are mistaken if you think you can handle every aspect of the business on your own. A skilled and competent team is the backbone of any business, including a modern accounting firm.
When hiring employees, it is best to use some type of applicant tracking system. These systems automate the hiring processes and help you save money on human resource management. On top of that, you get access to the most suitable candidates and build an extensive talent pool.
Equally important, understanding financial leadership serves as a blueprint to successfully run a modern accounting firm. Your team functions better only under an able leadership. Consequently, your business growth can skyrocket.
Step #4: Use Cutting-Edge Technology
When you are running a modern accounting firm, you cannot afford to stick to archaic mechanisms. With all aspects of businesses going digital, you need to maintain pace and incorporate the newest technologies.
Modern accounting techniques focus on automation. Automation speeds up processes, workflows and minimizes errors. The miracles of automation come into play when you are working with bulk data. Incorporating big data analytics into your processes will allow you to work with huge datasets and deliver quick results.
Your brand image improves when you market your use of technology. As a result, you gain credibility and establish positive brand awareness.
Step #5: Offer Advisory Services
A modern accounting firm is different from a traditional bookkeeping company. You are taking care of multiple aspects of your client's finances and not just helping with record keeping. It gives you the chance to extend advisory support.
Most organizations value expert advisory services. If you are capable of providing it, that shows your authority in your sector. Incorporate advisory services in your modern accounting firm for the better overall performance of your business.
Characteristics of a Modern Accounting Firm
Here are some of the prominent characteristics of a modern accounting firm that you may want to consider before launching your company:
Flexible and adaptive structures: A modern accounting firm should be able to perform in different circumstances—both casual and difficult—and deliver consistency each time.
Specialized services: If you cannot offer anything new to your clients, you would not be able to retain them. Move beyond generalized services and offer something unique to the industry and you have the necessary skills to help your clients.
Automation: If a modern accounting firm does not automate its services, it would not endure the competition. Automation is a necessity in 2021 and not a luxury.
Customer support: Solid customer service is a hallmark of any successful modern firm. Without a robust customer support process, clients won't have confidence in your services.
Conclusion
Running and managing a modern accounting firm is not easy. However, sticking to a plan and disciplined, consistent steps go a long way to ensuring success. With a solid framework and actionable goals, your accounting firm can taste success.
If you want to take your accounting firm to the next level, ClientHub can help you achieve your goal. ClientHub is a one-stop solution for fast and secure information sharing and workflow management.
With ClientHub, you get a chance to devote all your attention to a better customer experience, letting them do all the financial heavylifting.
Originally published Nov 21 2021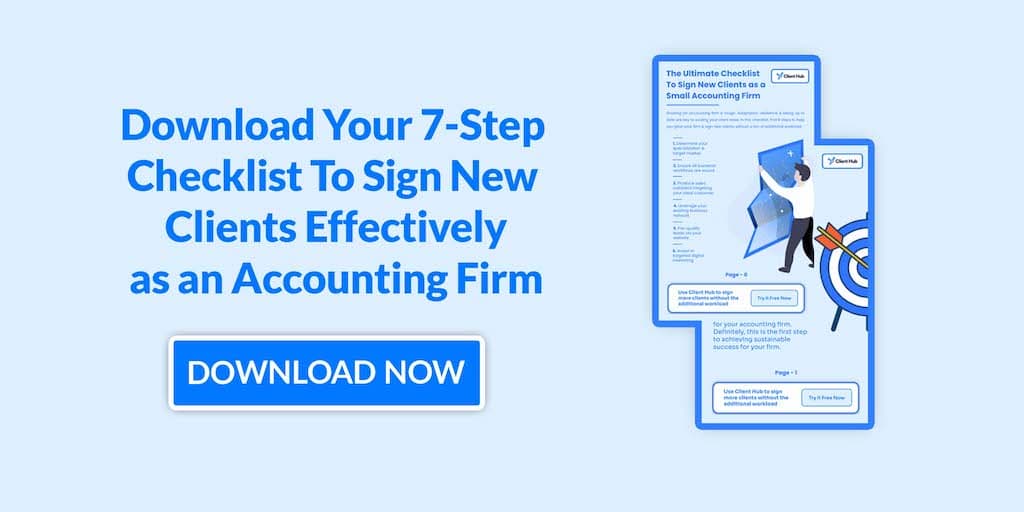 Frequently Asked Questions
What new areas are accountants expanding into?
Accountants these days are expanding into advisory services, account automation, financial leadership, and Software as a Service (SaaS), among others.
Is the accounting industry changing?
Yes, the accounting industry is rapidly changing. With the introduction of automation and analytical tools, the core structure of the accounting industry has become way efficient than it used to. Hence, constant upskilling and upgrading are necessary to keep up with the changes.