The accounting and financing industry is one of the industries lagging in terms of growth. Records show that only 4 out of 42,000 financial firms generate about 85 percent of the industry's revenue, and about 72 percent of the firms struggle to get new clients—a sign of industry lag.
The report on the declining growth rate of most accounting firms is saddening. Many of these firms complain about how they find it difficult getting new clients is a whole new level of a game.
But it should not stop your firm from thriving. In this article, we provide tips and answers you need to know on how to grow your accounting firm.
7 Tips on How To Grow Your Accounting Firm
Growing an accounting firm can be challenging. It involves tackling responsibilities such as increasing your firm's market visibility, sourcing new clients, sustaining client-business relationships, and many other handy tasks you can think of.
Nobody wants to own, invest, or patronize a company with no sign of growth over the years. This is why most clients prefer big firms instead of average or small players.
The struggle of the small accounting firms has caused CEOs, executive team members, managerial team members, and even workers of these companies to speak up and seek solutions for fear of folding up.
The fear is genuine; however, you still don't need to panic because the situation of your firm is solvable. Here, we have put together 7 tips that contain the secret spice that can make your financial firm bloom within a short period.
Tip #1: Long-Term Mission & Vision of Your Accounting Firm
The goals of your firm cover everything it wants to achieve and it can be likened to your vision and mission. Vision entails the future you see for the business, while mission covers the objectives of the business and ways of achieving the objectives.
As a business firm with a future, you should have both short- and long-term vision and mission. Short-term visions and missions are those you want to achieve soon, while long-term goals are the ones you plan for the future.
When setting the mission and vision of your firm, you should keep in mind that you may not visualize your vision from the very onset. To cater to both, set your short- and long-term visions, as you achieve the short-term vision, you can gradually adjust your future goals.
Just like goals, when setting your vision and mission, they should be realistic, specific, measurable, attainable, relevant, and time-based. Also, when setting goals, ensure that they cover these three categories of goals: process, performance, and outcome.
Also, you need to be clear about your value proposition and competitive advantage if you want to success and keep going in the long term. Another aspect to cover would be defining your buyer persona, in order to focus all the efforts on the market and customers you are targeting.m¡
Tip #2: Predict the Growth of Your Accounting Firm
Forecasting the growth of your accounting firm is more like setting a short- or long-term growth goal for your business. Predicting the growth rate of your firm helps you estimate how much revenue or earnings your firm can generate in the future.
You can predict your company's growth rate for the next two, five, or even ten years. Before you can successfully predict the growth rate of your firm,  you need to know and understand your firm's current growth rate.
If you do not analyze how much increase in revenue and stocks your company has over the past years up until the present, it will be difficult for you to predict a growth rate close to accuracy.
A simple way of calculating your company's growth rate using your revenue over time is by comparing the revenue of any two subsequent years—for example, the revenue of the last year and the one before.
Calculate how much revenue your company has made within the past year, then subtract the revenue of the previous year from it to get your current growth rate.
In addition to understanding your current growth rate, you should picture it alongside your marketing strategy. These strategies form the core basis of your company's growth as it projects your firm into the market and defines how the market sees what you do.
Once you have understood the current growth rate of your company and have critically analyzed the growth and marketing strategy that yielded the current financial return, carry out a customer satisfaction survey on your clients, partners, and workers to know how they rate your growth.
With the above factors in place, you can successfully forecast what you expect your company to earn in the coming years.
Tip #3: Focus on Client Communication - Drives Retention and Growth
The role of customer referral in the growth of a business should never be underestimated. Your clients are testimonies that you are best at what you do and they serve as blockbusters to your business. Hence, you need to build and sustain your relationship with them.
You cannot expect your business to sustain itself solely from your ability to look out for new customers. Unless you leverage your existing client base to widen your outreach, you're not expending all your resources.
For instance, you have 10 clients and they refer 5 people each to you, resulting in a total of 50 new clients. You got 50 clients without investing much time and resources which you can now use to grow more.  That's the power of having loyal clients.
The best way of turning your one-time clients into loyal clients is by staying in touch with them throughout. Once you make your clients feel important, you have won their hearts and it is a promise that they will stay with you through thick and thin.
Focus on client communication by building rapport with them. A good way of building rapport with your clients is by creating communities and avenues through which they can easily reach you. Providing an avenue for your customers to easily reach you or your business fosters trust.
Another way you can maintain client communication is by reaching out to them via phone calls. Even with the presence of most businesses on social media, the magic phone calls do in fostering customer relationships cannot be ignored.
Setting up a personal one-on-one call with your clients can show how much you care about them in this electronic era of voiceless and faceless communication.
Tip #4: Get in Touch with the Right People
Nothing expands a business faster than networking. Meeting new people, organizing and attending events, face-to-face communication, and building relationships with people can grow your accounting business.
Plan and attend strategic events where you can connect with prospective clients or people who can link you to them. When checking for events to attend, be intentional about it. Scan through the list of attendees, guests, and sponsors to ensure that they are relevant to your accounting business.
For each event, you attend, set goals and targets to achieve, and be adamant about following through with it. When planning to attend such gatherings, it's better not to go alone; rather, go with colleagues who can engage people in discussions that project your company without sounding straightforward.
Take every event, get-together, or dinner you are invited to as an opportunity to spread the gospel of what your firm does, you will know how many leads you will generate.
Tip #5: Provide a Safe Space for Sensible Information
Confidentiality is one of the qualities clients look for in a accounting firm. If clients can trust you with sensitive data, expect a lot of them coming around.
There are different ways accounting  firms can minimize data risk and manage the confidentiality of clients' information such as tax ID, account numbers, social security numbers, and other data under their care.
Secure your clients' data by assessing your security network to ensure that there are no loopholes. 'Evaluate your security strategy against cyber threats and ensure the credibility of your technical security using firewalls, antivirus, or anti-malware.
Training your employees to understand the need, importance, and penalty of protecting data is another way to protect your clients' private information.
Likewise, set up stringent security protocols such as authentication, data backup, recovery plan, and ensure fool-proof administrative security—for example, secure key locks, fingerprints, door locks, CCTV camera, and physical security.
Educating your employees on the need to protect your clients' information cannot be overemphasized. This is to ensure that they understand the gravity of carelessly handling the confidentiality of your clients.
Also, do regular checks and confirm that you have enough details of your employees. This is to make sure you keep track of their activities should any issue come up in the long run.ç
As a firm trying to hold grounds in the industry, plan, organize, learn, analyze, and improve your security system so you can shield your clients' private data from cybercriminals. Ensure a tight security system and penalty for defaulting your security protocols.
Tip #6: Solid & Agile Workflows
The solid and agile workflow involves carrying out activities step by step to achieve a productive outcome.
Adopting agile workflow methodologies is a great way to up your game and get your financial firm back to its feet. Its flexibility allows your business to adjust to spontaneous changes in the market without much damage.
Agile assists you in structuring your organization processes, enhancing accountability amongst your workers, minimizing pressure and work stress, and managing your business parameters. It also helps you deliver high and quality output fast and efficiently improves collaboration amongst you and your partners.
Other benefits of agile to your business are: it helps you detect risk early, get quick feedback from your clients, increase your productivity, efficiency, and communication.
Examples of agile tools you can use include Zepel for management software, JIRA for software teams, Trello, Github Project Management, Kanbanize, ActiveCollab, Orangescrum, Pivotal Tracker, and more.
The main objective of Agile workflow is to increase the functionality and productivity of your firm as an entity and in extension attract and sustain clients.
It improves your performance within the company and amongst your collaborators. It works more like a garbage-in-garbage-out scheme: if you plan well, you will execute well.
If you and your teammates are active and productive, it automatically reflects on the output of your firm.
Tip #7: Invest in Technology
As the day goes by, the finance industry is keeping up with innovations and technologies to bring the best out of its processes.
Technology is an asset every financial firm—whether a startup, growing, or mature firm—should adopt because it increases operational efficiency, financial intelligence, and productivity.
So, if you want to seek that competitive market advantage, channel your resources into technological innovations that can increase productivity.
Accounting activities such as audits have become complex which makes it very important for companies to invest in technology. There are also analytic tools that help you carry out your accounting processes with less hassles and more productivity.
Digitalization is also important because nobody wants to identify with a digital-fearing firm. Hence, you need to integrate technology and digital innovations into your business processes to optimize accounting activities, productivity, communication, and separation activities.
Take Your Accounting Firm to the Next Step
You are now ready for the big boom, about to hit your business. We have given you the secret ingredients on how to grow your accounting firm, increase productivity, grow your revenue, improve operational efficiency, and adopt a client-centered methodology to business. It will help overcome the challenges and struggles financial firms face.
Alongside implementing these strategies and tactics, It is always a smart idea to invest in technology like Client Hub.
Client Hub is a multifunctional software that provides you with an avenue to communicate with your clients, a platform to share confidential information with clients, a platform for solid and agile workflow, and other important tools and functions you need to grow your financial firm.

Originally published Oct 13 2021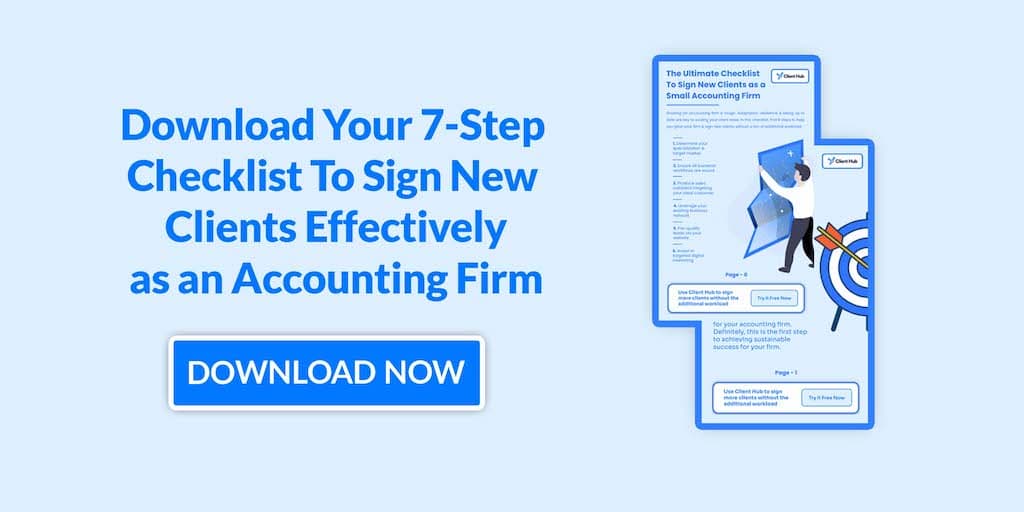 Frequently Asked Questions
How do you expand an accounting firm?
Expanding an accounting firm is the same as growing your accounting firm, as growth equals expansion. You can expand your accounting firm by networking, fostering client communication, developing solid and agile workflow, and developing new strategies that will increase the visibility of your firm.
How do accounting firms get clients?
Accounting firms get clients through customers' referrals and Networking. While the testimonies of your loyal clients boost the trust of prospective clients in your firm, turning them into loyal clients, Networking connects you to new clients.
How much can you make owning your accounting firm?
How much you earn as a accounting firm owner depends on your region and how long you have been in the business. However, you can earn an annual salary within the range of $48,000 to $85,000, with $70,000 serving as the average annual salary of accounting firm owners in most regions.
Is an accounting firm profitable?
Yes! Accounting firms are remarkably profitable. Most, if not all firms in the different industries that make up the global market require the services of accounting firms to boost their productivity. Hence, it is quite obvious that accounting firms are not near to losing face in terms of profitability.