Are you an accounting firm providing financial services to your clients? Are you looking to expand the scope of the services you provide? Adding wealth management accounting services to your roster is a great way to enhance your expertise and serve your clients better.
What is Wealth Management Accounting?
Wealth management accounting is a financial service that deals with the investment management needs of clients. It is an advisory service that studies the financial strengths and weaknesses of a client and guides them about the steps they should take in the future.
Components of Wealth Management in Accounting
Wealth management provided by an accounting firm is a holistic approach to financial planning. It consists of a number of components of financial management and accounting services alike. Some of the components include:
Accounts and tax services
Financial planning
Legal advice
Why Should Accounting Firms Focus on Wealth Management?
Adding wealth management to the services you provide adds a new dimension to your accounting practice. Here are a few benefits both you and your clients stand to gain by including wealth management in the services you offer:
Reason #1: Expansion on your Services
Wealth management is a valuable service that helps clients with their financial planning in the long term. Adding such a service to your practice adds to the value of your firm. You can show potential clients how consistently you have worked to enhance client experience in the past.
By practicing wealth management, you gain experience that may help you improve in other areas of your practice, services such as tax planning, financial planning, and legal organization, in addition to what you already offer.
These services will also improve as a result of offering wealth management alongside.
Think of it as a two-way relationship. You may need expertise from the other services you offer at the wealth management practice first. With time, you will gain knowledge from wealth management that you can put to use in the other fields of your practice.
Moreover, clients looking for a more comprehensive service for their financial planning would be willing to consider you when they see that you offer wealth management in addition to your other services.
Since it is a relatively newer service, you may need to enlighten your clients and prospects on why they should opt for the service. Let them know what they are to gain from having a number of services in a single one.
It may help reduce their financial stress and help them tap newer opportunities.
Reason #2: Better Service for your Clients
Most wealth management services cover aspects that a client would have to enlist someone else for. For example, tax-related matters of financial planning via wealth management would need to be taken up with the client's tax advisor.
However, with wealth management integration, all of these services come under one roof.
By providing those services together, the client rests assured that their advisors are working in their best interests. When the client sees that their needs are addressed and every aspect of their financial planning is looked after, it enhances their experience and satisfaction with you.
More importantly, it will reduce their financial stress. They know that you have the knowledge and experience to predict setbacks as well. You can either avoid them entirely or minimize their effects to a great extent with the help of prior planning.
Either way, it helps your client in the long run. It is something they will see and appreciate your efforts for. They will be more willing to let you take care of their finances, giving you more freedom to operate.
Happy clients give you brand loyalty. They are likely to refer you to their friends and family. 49% of consumers in the US say that the number-one way for them to know about a business or brand is through their friends and family, a source they're more likely to trust.
Your client recommending you to the people they know can be a huge push to your accounting firm. It's all the more reason for you to offer existing clients a great host of services, including wealth management.
Reason #3: Identification of Better Opportunities
As Forbes once pointed out, one of the biggest issues that get in the way of accounting firms helping their clients to the fullest is their inability to identify wealth management opportunities.
By introducing wealth management as a service to your clients, you can help them better by identifying appropriate opportunities. The more you practice wealth management, the better you get at identifying such opportunities.
Wealth management is more than just investment advice, it encompasses and touches on all parts of an individual's financial life.
Instead of working to amalgamate and find patterns in different aspects of a person's finances that you receive through different channels, you are likely to perform your job better when you have all pieces in one place.
Similarly, your client will also benefit better from this arrangement. They will understand their finances better when one professional works on all departments or multiple ones work on it collectively, instead of different people working on it separately.
You will also learn to identify clients that need wealth management in the first place, such as business owners. This in turn helps you gain more knowledge in the tricky field of wealth management as a whole.
Moreover, wealth management services can be performed all year round, giving your firm more business compared to regular accounting services that mostly are opted for by clients during a few months every year.
Reason #4: Increment in overall Efficiency
Bringing all aspects of a client's financial and investment needs under one roof helps you work more efficiently. You have a lot less friction with related departments and even little tweaks can help make a big difference.
You also make sure that you don't miss out on any detail of your client's financial situation that may be lost when you handle only a few aspects of it. You can identify more opportunities and make your client profits, serving them better in the long run.
For example, you may notice more ways to save tax at the year-end because you are working with the client's tax advisor. It will help your client save big and plan their tax strategies better.
Generally speaking, in any office, wealth management is usually handled by a team of experts. They are sure to deliver top-notch results when working in tandem, adding to your overall efficiency.
You can prepare a solid financial plan in advance for each of your clients, helping solidify their position in the long run. You can both pick up on opportunities better and avoid mistakes as well.
This helps you set long-term goals for your clients. Wealth management is usually opted by high-net-worth individuals and are the kinds of clients you'd be highly interested for long-term future goals. You can present a realistic blueprint to them along with the means to achieve those goals.
Reason #5: Increase on your Return on Investment
This may not be visible from the start but will surely be more evident in the long run. Once you add wealth management to your roster of services, you add another dimension to it.
More clients will be willing to work with you for the added advantage of wealth management with the regular services they receive from you.
This will in turn help you retain more clients and enhance their experience with you. All of that will cumulate and result in increased profits for you in the long run, helping you achieve a greater ROI.
With more professionals from different fields working in a single department, you can strengthen both their individual departments and the wealth management service you offer.
You can consider streamlining some operations to cut costs. Alternatively, you can just as well consider branching out, whichever way it benefits your practice.
The professionals bring the expertise from the separate fields to wealth management and take the knowledge they gain there to their own field. The end result is a well-functioning firm with highly qualified professionals excelling at their jobs.
Efficient workflow means a greater return on investment in the long run. It also guarantees happy clients that also contribute to the increasing ROI. You may not even have to wait for too long to see a visible increase in your ROI. Effective management may show its impact on your firm's finances sooner than expected.
Benefits of Offering Wealth Management for an Accounting Firm
As an accounting firm, there are many benefits to offering wealth management as a service. It helps you increase the number of services on your roster.
Subsequently, it helps you attract more clients as well as serve the existing ones better. You get a better understanding of the client's financial situation and can guide them better.
You can consider getting wealth management accounting software that help you work more efficiently. Wealth management services also help you increase your ROI in the long run.
Conclusion
Wealth management is a holistic approach offering a broad range of services that take care of clients' financial and investment needs. It covers everything from investment planning to tax and legal advice.
As an accounting firm, there are many benefits to adding wealth management services to your practice, both in the short- and long-term. Explore them in the coming term and reap the benefits.
Platforms such as Client Hub will be your perfect choice for providing efficient wealth management service to your clients. The web-based portal provides top-notch data collection, client communication, and management of the workflow.
Originally published Nov 26 2021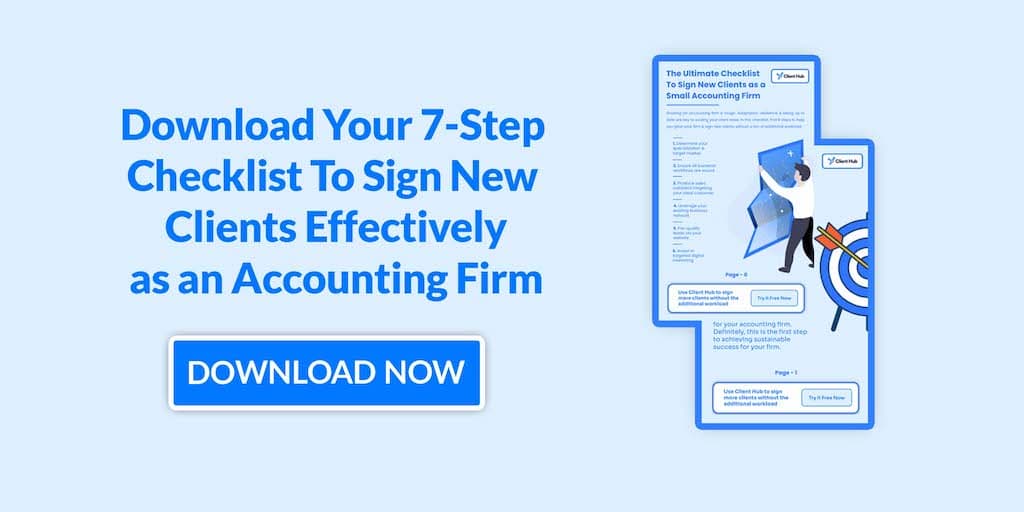 Frequently Asked Questions
What is wealth management accounting?
Wealth management is a service that deals in investment advisory. It involves analyzing a client's financial needs and crafting a personalized strategy for their future investments.
Are wealth managers accountants?
Wealth managers are experts and financial advisors that help clients with their financial and investment needs. Accountants can be a wealth managers if they offer that service to their client.
Can Certified Public Accountants (CPAs) do wealth management?
CPAs can practice wealth management if that is a service they are willing to offer to their clients. In fact, it is advisable that a CPA offer wealth management services as they are beneficial to both the CPA and their clients.
What is a wealth manager's salary?
A wealth manager can earn anywhere between $22,000 to $623,000, which is considered a handsome wage in the market.