There is no doubt that the accounting profession is changing with technological advancement. The latest accounting trends revolve around technology changes, and it continues to reshape industries and businesses even in the trying times of  COVID-19.
The work environment changes contributed to the change in operational processes. As an accountant, it is essential to understand the industry's trends to create a strategic plan for your business.
5 Accounting Industry Trends Defining The Future
As a professional in the accounting industry, to advance, you should recognize and understand new trends for 2022. With such transformation taking place in the industry, accountants need to think strategically and implement practices that make their firm future-ready not only for 2022 but many years that follow.
Here's a list of 5 accounting trends that define the future in 2022.
#1: Automation Everywhere
Automation is a critical trend in the accounting industry. Automation helps reduce errors that manual data entry brings and eliminates confusionTechnological advancement has rapidly shifted the frontier between the work performed by humans and those completed by machines and algorithms.
This technological change has enabled automation to do more of the things accountants should have done manually.
According to an Association of Chartered Certified Accountants (ACCA) study, top accounting executives in the industry expect the development of an automated accounting system.
Automation will have a high impact across several industries, whereby accountants can utilize and optimize processes in the coming years.
With accounting automation, business arrives at a data-given decision quickly. Gone are the days of manual data entry and inefficient processes in the industry. To keep up, you need to make this trend part of your strategy in your firm for 2022, something you should seriously consider.
#2: Secure Cloud Accounting Solution
This solution allows an accountant to access the same data and the exact version of the software. With cloud accounting solutions, a more significant amount of information can now be accessed with little cost.
Since the  COVID-19 pandemic, computerized accounting has increased dramatically to suit work-from-home business executives and employees.
The data access includes sales, expenses, and tracking inventory. Secure cloud accounting solutions allow the creation of workflow and save valuable business time.
According to accounting today report, by 2026, the value of the global accounting software market will be close to $21 billion.  With the idea of giving accountants access to share resources, it has made accounting information more accessible and the process efficient.
Secure cloud accounting solutions provide the data with a security layer from hackers, damages, or data loss. Adopting this technological-driven solution trend will give you more insight into your business in 2022.
#3: Artificial Intelligence(AI) & Accounting
A census across several industries shows that AI will significantly impact accounting by leading the industry trend. AI allows the accountant to focus their time on higher impact and higher-value activities.
The use of AI in the accounting industry helps to allow the effective running of the firm's day-to-day activities.
AI growth in the accounting industry is steady till date,  but it is sure to soar higher in the future because of the level of efficiency it brings in carrying out repetitive, analytical, and predictive tasks.
According to sage 2019, 58% of accountants believe that AI can improve overall efficiency, and adopting the relevant application for their company is necessary.
AI is indeed transforming the accounting industry, figures show. It provides a vast opportunity for accountants, helps in making decisions, and empowers lucrative and in-depth analysis.
#4: Blockchain
Over the last few years, blockchain trends have been on the rise. Blockchain can be used to record, share, and synchronize transactions into an immutable ledger of accurate financial information. It provides the needed accuracy in terms of ownership and history of assets.
With blockchain technology, an accountant can view their organization's obligations and available resources.
According to Forbes, blockchain is a technology based on accountancy.  It has caught accountants' attention, and many accountancy firms like the big four-EY, PwC, Deloitte, and KPMG have joined in the blockchain trend.
Blockchain is a trend in accounting, and its application will only continue to increase, transforming how accountants operate today and in the future.  The adoption of these skills and technology in 2022 promises a significant future for the accounting industry.
#5: Accounting Workflow Solutions With Client Communication Built-In
Workflow is a planned and repeatable sequence of tasks. It is the process of transforming resources into services. Accounting workflow solutions are more indispensable than ever.
Accounting workflow solutions offer an all-in-one platform to help track project status and audit who completed tasks on a project. How you arrange the task determines your workflow.
A centralized hub or dashboard can help keep every detail in the pipeline, such as project requirements. You can also see who is working on it and delegate extra hands if needed.
For this reason, it will make a difference if you have a solution that can handle any accounting firm's standard workflow on a daily basis.  It can be any process—a compliance process, client onboarding, team communication, advisory, sales, or something else.
Client Hub centralizes communication with the client and it's a modern all-in-one platform built for modem accounting firms. Within the platform you can communicate directly with the clients without suffering botllenecks in your tasks and get stuck awaiting client response.
Client Hub it's not only a client communication tool, but also a platform for building your internal workflows that are also connected to the client accounts, helps with the secure file sharing and much more.
How Technology Is Shaping The Future of The Accounting Industry
Change is the only constant thing in life, and so goes for business. Technology changes alleviate unexpected business disruptors to adapting to new operational models.
The accounting industry isn't an exception, moving from mere bookkeeping and payroll to an increasingly strategic role for the future. With the right technology—such as automation, AI, blockchain, secure clouds, and others, you can evolve how an accounting firm operates.
Technology has shaped  the accounting industry's future by impacting the type of job made available. There is a general fear of technology replacing humans in the future; the answer is probably NO.
Technologies like secure-cloud, artificial intelligence (AI), automation, and blockchain empower the accounting industry by reducing manual data entry and improving data speed, accuracy, and quality.
As systems handle the repetitive aspect, humans deal more with the analysis. Future accounting jobs will require professionals willing to evolve alongside the industry.
Human accountants should never be underrated. The specialized training of accountants will add value to the accounting industry and check the AI's performance.
Ideas are  born and businesses built; accountants will act as trusted advisers. Technology will change, no doubt,  but the dynamics will remain the same and more than likely, strengthen.
Technology will continue to impact the role of the accountant  and the industry, so leaving behind is never an option, especially in the post-COVID year of possibilities—2022.
In case you want to learn more about the technology trends in the accounting industry and keep up with time, learn it from one of the most trusted go-to sites like Client Hub.
Originally published Sep 28 2021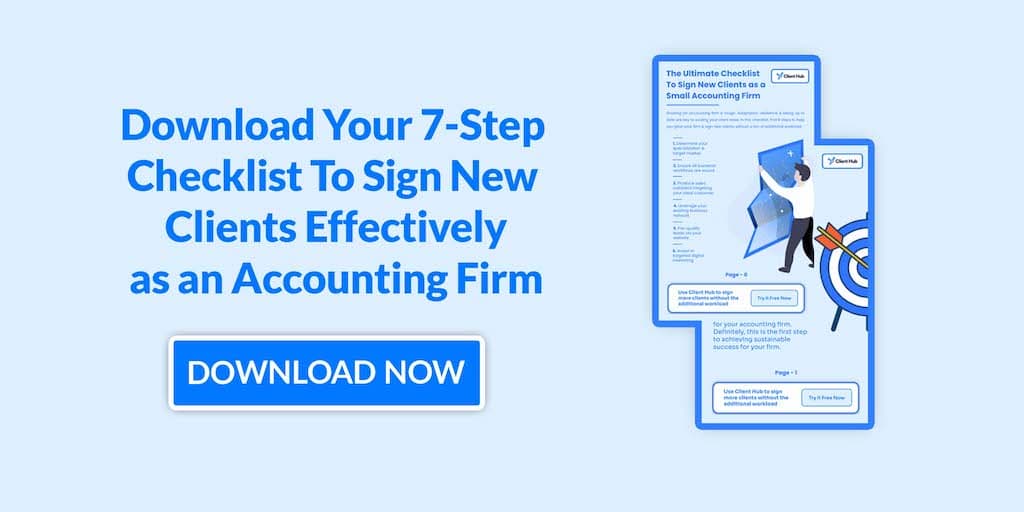 Frequently Asked Questions
What are the current trends in accounting?
The trends are few but all of them point towards the same thing: digitization is everywhere. Listed below are some of the current trends in the accounting industry:
Focus on data analytics
Remote work setting
Advisory services
Utilization of social media
Big data in accounting
What are current trends in accounting and finance?
The current trends in accounting and finance have brought massive opportunities to the industry. It requires the accounting team's time and attention to ensure successful growth. Some of the trends are listed below:
Outsourced accounting
Improved technology
Value-based pricing
Demographic shifts
Valuable, real-time data
Is the accounting industry growing?
The accounting industry is definitely growing. It was estimated to grow from $544.06 billion to $573.29billion in 2021 at a compound annual rate (CAGR) of 5.4%. The growth is mainly due to the COVID-19 pandemic, which led to companies rearranging their operational structure. The market is expected to  reach $735.94 billion in 2025 at a CAGR of 6%.
How is the accounting industry changing?
The accounting industry is changing from mere bookkeeping and payroll to the use of advanced, intelligent technologies. The accounting industry is changing due to productivity optimization available through technologies.