Many are of the belief that accountants lack the necessary social skills and are usually the introvert type. However, in a world becoming increasingly digital with time, communication or soft skills can be the real differentiator for two individuals competing for the same accounting position in a firm.
According to a survey report published by the Society for Human Resource Management, 97 percent of employers stated that communication skills were either as important or even more when compared to the core skillset.
Believe it or not, almost half of the new employees fail within the first 18 months, and 89 percent of them fail due to the lack of proper communication skills.
7 Communication Skills Every Accountant Must Have or Develop
As an accounting professional, you should be able to communicate effectively both in-person as well as over the telephone. It is critical for an accountant to be able to grasp complex issues and be able to explain them and provide answers in layman's terms.
Let's delve deeper into the top seven communication skills that every accountant must develop and how they help in the career journey of an accounting professional.
Communication Skill #1: Listening
Listening tops the list of communication skills for the simple reason that an accountant needs to understand their clients' financial issues before making an attempt to solve them. As we all know, listening is an important component of two-way communication.
Listening at deeper levels can also help you understand the hidden clues in the messages that may carry additional information. From gathering relevant information to receiving feedback, listening is the ultimate way to get the facts right and then act on them.
Communication Skill #2: Talking Straight
Your colleagues or clients do not have a lot of time in hand to wade through unnecessary details to extract the important information from your message. Hence, it is necessary for you to communicate as concisely as possible.
Being an accountant, getting the facts correct and gaining clarity on what you want to communicate in as few words as possible is equally important.
For example, creating reports with a short summary, writing to-the-point emails, or creating presentations that contain the key messages are a few such instances.
Communication Skill #3: Persuasion
As an accountant, you need to be adept at persuasion. This skill is critical to building trust and solid relationships. You must keep in mind that in the field of accounting, you are constantly striving to help your clients solve their financial problems.
Sometimes, you may be able to think from a long-term perspective and be convinced about offering a solution, but your client may have their doubts. This is where your persuasion skills will come into play.
Communication Skill #4: Critical Thinking and Problem Solving
With the Covid-19 pandemic, firms are continuously facing financial challenges. Whether it is reallocating funds or cash management, responding to new legal changes, or managing changes in the payroll, critical thinking and problem solving for an accounting professional is a crucial part of their job.
As a thorough professional, you must always be equipped to navigate through unexpected challenges. You will become indispensable for your firm if you are able to think on your feet and provide solutions to your clients that benefit them in the long run.
Communication Skill #5: Collaboration and Teamwork
The success of an accounting firm is hardly ever dependent on someone doing everything all by themselves—whether it is the payroll process dependent on multiple people for multiple inputs or generating revenue where each member in the team has to play their part.
As an accounting professional, you will always be in demand if you have the ability to collaborate and work well with others. Also, as a team member, never let the work of any other member go unnoticed.
Communication Skill #6: Time Management
Like any other professional, it is important for an accounting professional to manage time effectively.
The typical day of an accountant involves an endless list of tasks which includes analyzing issues, managing strict deadlines and commitments with clients, and much more.
Time management for an accountant is much more than just being on time. It is also about being aware of different processes, the amount of  time it takes to complete these processes, and simultaneously accounting for all these tasks within the existing workload.
Communication Skill #7: Leadership
All of the soft skills eventually come down to this stage—leadership. It is not just about being a good manager, but also about earning respect by putting in the required effort.
Good leaders are both able to communicate well and think strategically, not to mention they can see the bigger picture.
Why Communication Skills Are So Important For Accountants
According to research, 48 percent of accountancy job listings in one of the recruitment websites included references to excellent communication and listening skills.
As a finance professional, you have a lot of information about the business as well as plenty of insights that non-finance professionals will not necessarily have. However, the information and insights will be of no use to the business if you cannot communicate them properly in a way people can understand and act upon.
If you are looking forward to frictionless client communication or want to learn about the technology trends in the accounting industry, you should give ClientHub a try. Click here to download a demo or have a direct conversation with one of our friendly professionals.
Originally published Nov 3 2021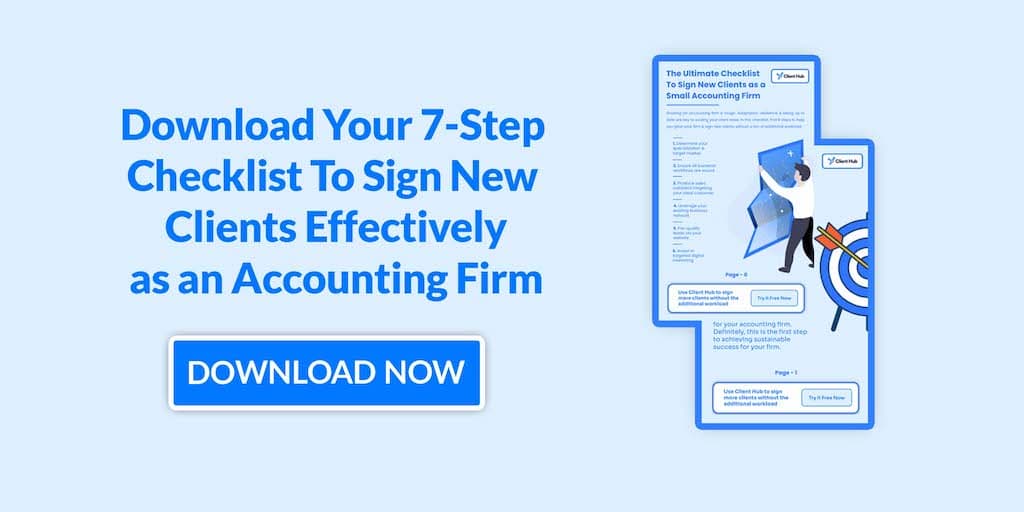 Frequently Asked Questions
What kind of communication skills are needed for an accountant?
As an accountant, you need to communicate effectively both verbally and through written form. You need to understand and listen to clients' financial issues and be able to provide effective solutions to resolve them.
Why are good communication skills necessary for accountants?
Having good communication skills ensures the correct transfer of messages in the clearest and concise way possible. Accounting professionals with poor communication skills may negatively impact the reputation of the firm they are associated with and can even cause the firm to lose its clientele.
How can an accountant improve communication skills?
An accountant can improve his/her communication skills in the following ways: getting technical points communicated clearly and concisely, understanding the audience, using jargon effectively, listening to multiple levels, and leaving the other person feeling heard.
What are the 5 basic communication skills?
The five basic communication skills for an accountant can be listed as follows: listening, talking straight, persuasion, critical thinking & problem solving, and time management.