Are you an accounting firm providing professional services to your clients? Do you want to have a robust onboarding process in place? If you want to enhance your client intake process, then a client intake form is a must for you.
What Is a Client Intake Form for Accounting Firms?
An accounting client intake form is a questionnaire essential for every accounting firm which aims to serve their clients in a quick and efficient way.
The questions help the firm to determine whether the client is suitable for their services and then formulate a strategy that helps them meet the business goals, requirements, and pain points of the client.
How To Create a Client Intake Form for Your Accounting Firm
To create a client intake form perfectly suited to their needs, you need to analyze beyond what you usually require from your clients. You have to think about the various needs of the business to create a form that is useful and serves the purpose.
First, you need to plan systematically before drafting the client intake form. Here are a few questions to address while creating the form:
What kind of questions should go in the client intake form?
What else do you need to include in the form to make it useful? (yes, there are things other than your usual questions)
Where should you store the client intake form?
How can the client access the form?
What are the tools you require to create the form?
What Should Be Included in an Accounting Client Intake Form
Most of the accounting firms prefer to start their client intake form with a personal note or welcome message and this is definitely a good practice. You can choose to use one of the bookkeeping client intake form templates to avoid technical hassles and make the writing process a breeze.
The most obvious information your client needs to collect from the form is your contact details. You need to keep your mailing and email address up-to-date at all times. The billing information is another crucial element to consider in the client intake form.
You might also consider adding your payment terms and details in the form along with the confirmation that your client has shared with you.
Besides these basics, the form should include a list of essential questions you would like your client to answer for you to meet their requirements.
16 Questions Every Accounting Firm Includes in Their Booking Client Intake Form
If you are yet to put all your thoughts together, or need some help, you can use an accounting client intake form template. The questions typically included in a booking client intake form are categorized  under the following headings:
Checking on the basics — These are basic questions about the client and their business. Consider asking the following questions under the basics section:
What kind of business do you have and what can you tell us about your business?
How many bank accounts do you hold?
Do you report sales tax and are your tax returns updated?
Do you have a payroll system in place?
Do you have an inventory system?
What are your plans to expand back operations?
Addressing their pain points — This section delves deeper into the challenges faced by the client that your accounting firm should address. You may consider the following questions under this section:
How do you define success in your business?
What are you most proud of in your business?
If you could solve one pain point in your business, what would that be?
Is your business suffering from benefits or wage issues?
Are you facing any regulatory challenges?
What is your current situation in regards to debt-to-equity?
Setting yourself apart from other accounting firms — This section presents an opportunity to set yourself apart from those firms that the client is considering to work with or has worked previously. Here are a few questions you can consider:
Are you updated about the challenges in the current state laws?
What got you to reach and contact our firm?
What would you consider a great client experience?
What do you think was missing in the previous firm you worked with or how could they have improved their services?
Why Use a Client Intake Form in Your Accounting Firms
As a professional services firm, time is money. Your primary focus is to work on functions that help you drive more revenue. By integrating a bookkeeping client intake form to your business, you will be able to automate the client and admin processes, thereby leaving you with more time and opportunities to focus on revenue-generation.
An accounting firm's client intake form primarily serves the purpose of:
Creating deals in the CMS
Populating the fields
Removing recurring administrative or operational tasks
Triggering actions in the sales pipeline
A bookkeeping client intake form serves much more than a simple contact form. In the long run, it becomes an integral element of your client onboarding process.
However, before you outsource your documentation process, consider if you really need it. Few possible reasons could be:
Hassles of documentation, styling, and template-building
Lack of dedicated resources who have the expertise in the documentation
Fear of sub-standard work and being judged by the clients/customers, and so on.
Client Hub will be your perfect choice when it comes to creating a client intake form that helps you to seamlessly onboard new clients and serve the requirements of your business. Integrating the power of efficient onboarding with customer experience, this platform masters customer relationship management (CRM).
Originally published Oct 18 2021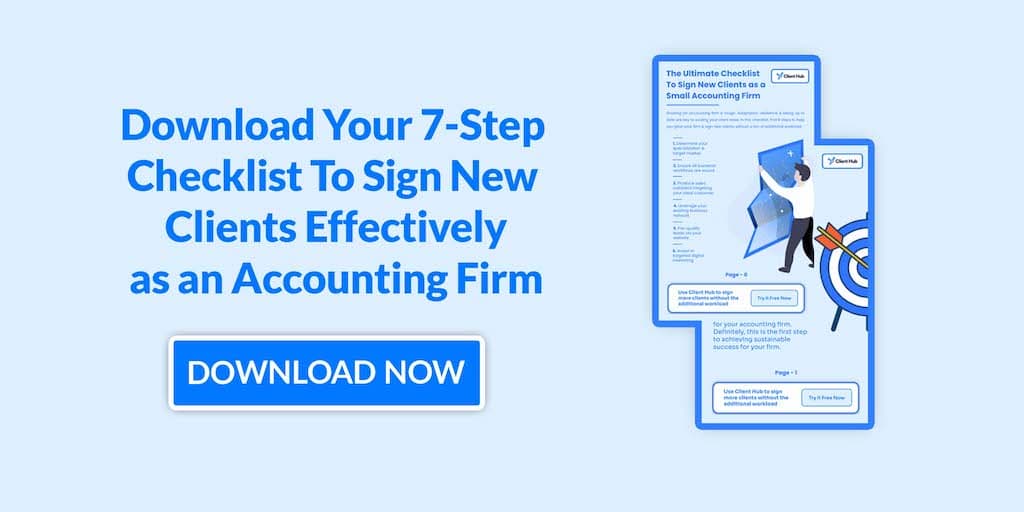 Frequently Asked Questions
What is a client intake form?
A client intake form is a questionnaire you share with your clients to understand their business before offering solutions to eliminate their challenges and helping them meet their business goals. In other words, it can automate the process of collecting information.
How do you send an intake form to a client?
You can choose to send an client intake form using any of the following ways:
Using Google Docs
Sharing Word or PDF documents stored in a Cloud drive
Using the workflow solution in ClientHub to share a link to a form, like a Google Form
What is a client intake assessment?
A client intake assessment is a process, often conducted through a meeting and/or with documentation, that records the various dimensions of a client relationship—for instance, their needs and pain points.  It aims to cater to the clients' needs and increase their engagement. If you intend to provide professional assistance to your clients and gather data from them, you can choose to publish this form on your webpage.
How do I onboard a new bookkeeping client?
Through a discovery call
Understand their business model
Gather customer information
Set the right expectations
Standardize your accounting technology
Send contract to sign