There are various ways to boost productivity at work but sometimes even with all the necessary information at your disposal, it is difficult to get a job done on time.
To avoid such mismanagement, the best thing to do is introduce your team to workflow management systems especially if you are a part of an accounting firm.
Before we understand how a workflow works and its benefits, here's what you should know about accounting workflow systems.
What Is an Accounting Workflow Platform?
Accounting workflow software, also known as project management software, is a platform that helps you create, manage, and organize work-related processes in an accounting firm.
It allows you to view and stay updated on the progress of various projects with the help of a central dashboard and displays other details regarding the project like requirements, status, or delegation.
In simple words, it helps in the accounting workflow process by making monitoring easier and enables you to update the goals of any project as and when you achieve them.
But why is a workflow platform so important for an accounting firm?
7 Reasons Why Accounting Firms Need a Workflow Platform
As W. Edwards Deming rightly said, "94% of problems in business are systems driven and only 6% are people driven."
Workflow has gained a lot of traction since its early days, and for many accounting firms, it is gradually becoming the norm, and for good reasons.
Reason #1: Enables Easy Management of Project Tasks
One of the biggest challenges of an accounting firm is to manage huge volumes of data, not to mention the number of ongoing projects and the detailed requirements for every client.
It is very easy to lose track of these moving components.
Using a accounting workflow system makes it easy to manage all the tasks efficiently. You can break the components of any project into smaller pieces and assign each task to different members of the team.
With the help of the central dashboard, it is easy to keep a tab on the progress of each assignment without losing track of them.
Reason #2: Increases Accountability Between Teammates
How often does this happen at your workplace where miscommunication leads to a task getting delayed?
It is a very common scenario in accounting firms where the teammates assume that the completion of a certain task was someone's responsibility.
Believe it or not, 68% of employees waste an average of 3.5 hours per week waiting for data or information from a colleague.
With the use of accounting workflow software, it is easy to trace back the delegated tasks along with the names of those responsible.
This is a great way to ensure productivity between the teammates and make them accountable for their work.
Reason #3: Easily Onboards New Hires
There is no denying the frustration that accountants feel while hiring new employees. At the same time, they also need to ensure that the new hires feel welcomed.
With an accounting workflow system, all the business processes are standardized and well-documented. You can easily onboard new hires into your system and make them productive quickly as well as enable them to work on client engagements with elevated responsibilities.
Reason #4: Makes Overall Monitoring Easier
Using the dashboard feature in the workflow management software enables you to keep track of all the projects or tasks going on at the same time.
While this may not be necessary at all times, it helps you know the status of all ongoing projects at the same time.
Even if some of the projects are of a lesser priority, you can use this information to recount the tasks assigned for a specific client and keep a tab of all the teammates that were involved in the projects by any specific client.
It also helps you to review the overall performance of your team now and then. This ensures fewer redundancies and more accurate casework and frees up your space for other cases.
Reason #5: Ensures Everyone Is on the Same Page
An efficient accounting workflow process allows every member of the team to have complete information on the status of any ongoing project at all times.
You don't need to harass your co-workers with a chain of emails asking for any updates or feel left in the dark regarding the status of work.
The team lead or any of the teammates can easily find about the approaching deadline or extract any relevant information using the project-level view.
Increased transparency in managing projects can be extremely beneficial by limiting unnecessary communication and saving work hours.
Reason #6: Facilitates Simple Monitoring and Collaboration
A lot of time is wasted emailing back and forth between the teammates or with the clients asking for missing files or any relevant information.
A survey states that 40% of the workweek is lost due to inefficient communication.
Using the tools in workflow accounting software, it is easy to retrieve data and communicate internally. It also allows to effectively communicate with the client and exchange data with them swiftly.
Reason #7: Makes Delegation Easier and Improves Consistency

Including goal-setting for every member is very important for the success of any project. As your company grows, you will need to assign different tasks to the different members of your team.
Assigning a task isn't always straightforward because if there isn't a defined process to follow, you will need to intervene every time.
With precisely defined workflows and processes in place, assigning tasks becomes easier. A clear step-by-step process will ensure consistency of work within your team.
Explaining your collective goals to your teammates is also necessary to ensure that everyone is working together toward achieving them.
71% of co-workers believe that their leads don't dedicate enough time explaining the goals which in turn affects productivity.
How Having a Workflow Platform Benefits Your Accounting Firm?
According to a research study by PWC, a lot of accountants and bookkeepers believed that using workflow or any automated processes will render them obsolete.
The truth is that workflow platforms in your accounting firms will help you evolve and save time by eliminating redundancies.
Prevents miscommunication between co-workers enabling productivity — There's no need to keep waiting for data or status updates. A reliable accounting workflow software eliminates the need for time-consuming follow-ups regarding the status of work.
Ensures efficient time management by avoiding bottlenecks — With the help of clearly delegated tasks and simple to follow steps, it increases productivity and ensures that work is completed on time.
Provides clarity about project requirements and makes keeping a tab easier — Instead of manually updating the progress of projects or setting reminders by yourself, you can simply check your dashboard for the updates and stay on track.
Keeps your client's data safe and secure — accounting workflow software is equipped with built-in security features that secure your firm and clients' data.
If you wish to save time and ensure productivity by enhancing client communication at your accounting firm, then give Client Hub a try.
Click here to view a demo or have a one-on-one conversation with us.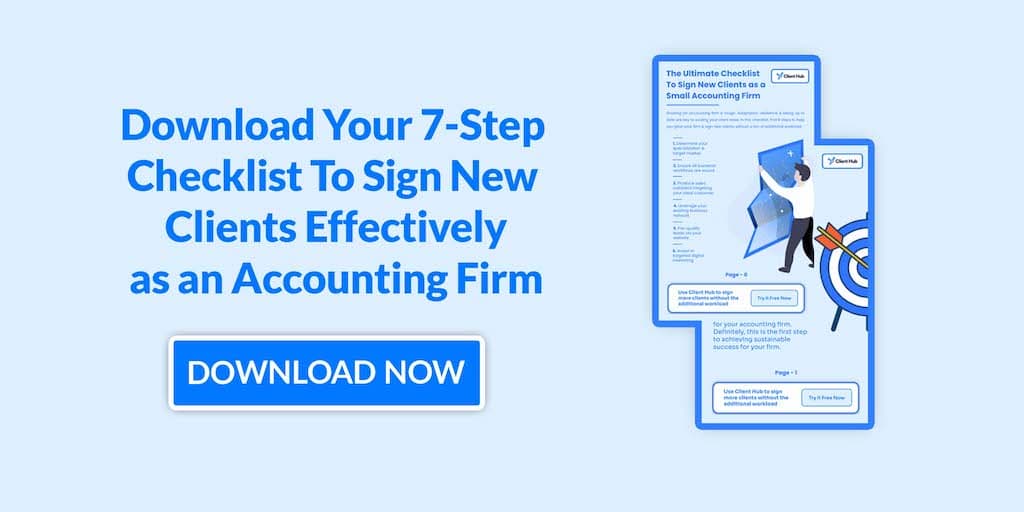 Frequently Asked Questions
What is a workflow for accounting?
It is a platform that lets you create and monitor tasks effectively between the teammates and ensures the completion of projects on time.
What are the workflow processes?
Workflow processes are a series of tasks performed based on user-defined rules for completing business processes. It can be simply described as collecting data, rules, and tasks needed to achieve a business goal.
What are the three phases of workflow?
The three phases of any workflow are input, transformation, and output.
How does a workflow flow?
A workflow is a set of tasks that processes the data. Anytime data is exchanged between two parties — humans and/or systems, a workflow is created.