With businesses and enterprises going online at an unprecedented scale, 2022 is the year you should aim for a 100% remote accounting firm.
Today, we will discuss the why and the how of remote accounting firms, giving you a headstart on making the switch.
The popularity of remote accounting firms has gone up after the Covid-19 pandemic, but the benefits would hold true even during the post-pandemic period. Let's find out how to run a 100% successful remote accounting firm in 2022.
Why Your Modern Accounting Firm Needs To Go Remote
For many years, accounting seemed to be a strict in-office profession. With the advent of modern technology, it is perfectly feasible to run an accounting firm remotely.
Before we dive into how to make the switch, let's focus on why you should consider it in the first place.
Diversify Your Talent Pool
According to a survey by leading job posting portal Flexjobs, 97% of the participants said they want to continue working remotely or in the hybrid model.
It is evident that more and more people want to work from their homes.
While remote working also helps in employee retention, here we are focusing on how the remote model helps in diversifying the talent pool for your remote accounting firm.
Many accountants are now seeking remote accounting firm jobs exclusively. They are unwilling to work in-office, due to personal preferences. A 100% remote accounting firm will be their priority, making hiring much easier for you.
Apart from that, a remote work model lets you hire employees from any part of the world. It helps greatly with bringing young and skilled professionals from outside your geographical vicinity.
Lowered Costs
The average per-employee cost of running an in-office space is around $18,000 per annum. Going remote can help you cut this cost significantly.
Due to lowered costs and high returns, many entrepreneurs are now looking to acquire existing remote accounting firms for sale.
If you are running an accounting firm from a physical space, making the switch will not be very difficult.
Any firm going remote will save on office maintenance expenses, real estate costs, employee remuneration for travel, and much more. The biggest upside is that cutting these costs will have no impact on your firm's performance if you make the switch correctly.
Increased Efficiency
One survey found that 6 out of 10 workers report being more productive while working from home.
There are clear reasons behind such claims. For example, commuting to the workplace is a significant time-intensive task for most people. Remote work saves 100% of this time, which can then be devoted elsewhere.
Remote working also offers a lot of flexibility to employees. That in turn leads to fewer absentees.
Employees' morale also stays high while working from home since they can stay connected to their families and loved ones. These factors combine to make remote working much more productive than available alternatives.
Challenges To Remote Work
For all its merits, working remotely also has certain challenges.
Data security, for example, is a concern in remote work. Since each employee will connect to the central database from their personal networks, there are chances of compromising on security.
The technical aspects of working remotely demand a certain degree of technical proficiency. While it would not be a problem with most young accountants, some employees from the previous generation might find the switch to be very challenging.
Remote work can make it difficult for teams to communicate with each other in real time. The problem becomes more acute when people are working from different time zones. Having said that, there are workarounds for each of these challenges.
Let's find out how to make the switch effectively to overcome these challenges.
How To Go 100% Remote With Your Accounting Firm
Going remote can seem intimidating at first, but it will become easy once you get the basics right.
The three most important areas to focus on are technology, communication, and user experience.
Incorporate Modern Technology
With the rise in automation, going remote is now easier than ever. Many enterprises sell fully automated solutions dedicated to remote accounting firms. These technologies make it easier to work remotely with huge datasets.
Incorporating cutting-edge tech is only the first part of the process.
The second and more important step is to hire employees with the ability to operate these solutions or train existing employees on the same.
Many modern accounting software does not have a steep learning curve, making it easier for employees to grasp.
Set Up Effective Communication Channels
Communication is the key to success in any workplace. Remote accounting firms are no exception, and you need to ensure effective communication between team leaders and members. Technology plays an important role here.
Choosing a Remote Workspace
Selecting a workspace for your accounting firm is a crucial step in the transition. In the context of accounting firms, remote work often focuses on exchanging data.
Choose a platform that does not restrict the flow of data and which makes conferencing easier.
Ensure Security
Accounting firms need a secure system to keep their and clients' data safe. Since accountants often work with very sensitive information, even small security breaches can become catastrophic.
Here, again, the role of technology is very important.
Apart from the technical aspects, employees also need to be careful about security. Those applying for remote law firm accounting jobs already understand the importance of confidentiality in the legal world.
Even other sectors are now realizing its importance, and it is the responsibility of the team leader to make the team aware of security measures.
If you are looking for a secure web-based portal for your remote accounting firm, ClientHub is one of the best options available. It secures data and makes sure none of the sensitive information is ever compromised.
Conclusion
In 2022, switching to a 100% remote accounting firm is among the best moves for accountants.
Despite challenges and setbacks, the scope of innovation is very wide. The improvement in the performance of your remote accounting firm will be self-explanatory of the merits of remote working.
Originally published Dec 17 2021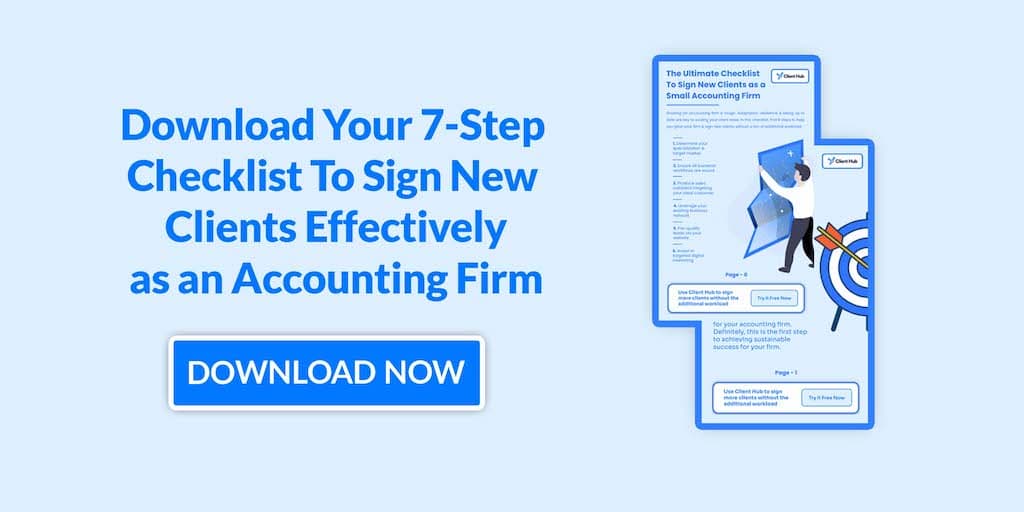 Frequently Asked Questions
Are accounting firms working remotely?
Yes, many accounting firms are now working remotely. Accounting Principals, Aston Carter, Citizens Bank, and CVS Health are some examples.
Can you be an accountant remotely?
Yes, many accountants are working remotely. The number will grow as more accounting firms go online.
How do I become a remote accountant?
Start with a course on remote accounting. Apply to various companies that post openings for remote accountant jobs. Upskill yourself to keep up with changing technology.
What is a virtual accountant?
A virtual accountant is responsible for managing a client's accounts and ensuring compliance. Instead of working from an office, virtual accountants work from homes or remote locations.