What Is Client Onboarding?
Client onboarding is the first stage of building a sustainable relationship with new clients for your accounting firm. It is a process designed to personalize your services and create a smooth workflow that can give the best customer experience for your new clients.
This process often starts with a meeting to identify your customer needs, their preferred working style, and set their expectations for your services. Done well , this initial meeting can be the foundation of a working relationship that would go for years.
What follows is massive growth in your business in terms of retention, profitability, and growth. But to ensure you get the maximum return out of your client onboarding program, standardizing the procedure is critical.
Standardizing your client onboarding for accounting gives you an opportunity to measure the efficiency of your process and optimize it accordingly. A handy client onboarding checklist for an accounting firm is, any day, a valuable asset here.
Why Accounting Firms Need Good Onboarding Practices
A great customer experience starts with making sure you do not keep your customers waiting. Documenting a standardized process for the client onboarding process ensures that you champion this goal.
As a result, you end up streamlining the complete onboarding process, saving valuable time for both you and your customers.
To do this right, developing an accounting client onboarding checklist template is an excellent option. Go ahead and give them a nudge to take action but be super-specific about it.
A pro tip here would be to make the prescribed actions time-sensitive and rewarding. But your standardized process optimization is not limited to template creation.
You can opt for smart SaaS (Software as a Service) tools to create the desired momentum. This is exactly where tools like Client Hub come in. Integrating the power of customer experience and the onboarding process, this tool ensures a seamless  client onboarding experience.
The Risks of Ignoring Your Client Onboarding for Your Firm
If you are thinking of setting client onboarding at the bottom of your priorities, I urge you to take a pause. Do think deep about why your clients seek your services. Is it only because of your expertise or the hassle-free experience of accounting management you can offer them?
Designing an onboarding experience for your clients sets the tone for expectations, services, and value for your clients.
But if you are still considering postponing your onboarding process, you should be ready to face the following challenges in your client relationships.
1. Misinterpretation of expectations
Misalignment of expectations between you and your client is one of the most common challenges you can face. If you have faced such a situation in the past, you are not alone.
With a systematic client onboarding process, you can eradicate this challenge. Standardizing your sales process like other workflows will build consistency in your work deliverables, especially when you are handling multiple clients simultaneously.
2. Growth Impediment
In business, time is money. But if you are taking too long to start a new service with a client, chances are they would move to the next vendor. You need to be proactive.
This is where an efficient onboarding system comes in.
Reducing the time of new project initiation, an efficient client onboarding ensures you do not lose on new project opportunities. It keeps the momentum going, decluttering your workspace from distractions.
3. Scope creep
Have you ever faced an over-demanding client? If you haven't yet, you would, sometime in the future.
Scope creep is when the expectations, features, or deliverables of a project keep inflating over lifetime. It's a common phenomenon for accounting professionals across the globe, especially if you do not have a standardized onboarding process setup.
On the contrary, you can successfully keep such problems at bay if you have a transparent and clear communication system laid out to refer to whenever a dispute arises.
This would give you room to protect yourself from such malpractices without hurting your long-term client relationship.
So, the question is, when do you start your client onboarding process?
Client Onboarding Starts Before the Sale Happens
If you thought that the client onboarding process for accounting starts the day of your discovery call with your prospect, then you need to rethink it.
There is a significant amount of work that goes into preparing your firm for client onboarding. This process often starts with standardizing your onboarding for the highest quality service.
Then, you can move to optimize it for a personalized experience. Together, they will help you to enforce trust and confidence in your clients about your services. But that is not all.
You would have to work on developing your core technology toolkit that can support your process end-to-end from start to end.
Developing a 'how we work' playbook  for your clients is a powerful tool here.
Expectations Set the Tone for the Whole Partnership
Defining the scope of your service and deliverables whenever you are onboarding a new client is critical for long-term success. It reinforces trust, transparency, and quality between you and your clients.
More so, mapping your scope of work gives your clients a comprehensive understanding of what you can and cannot do for them. If you take a deeper look at it, this one agreement can set the foundation for a long-term working relationship with your clients.  
But how is it done?
Here's how.
Start with understanding your client's goals and preferred communication style. This will bring a personalized experience of convenience and familiarity, critical to foster a long-term relationship. Ask vital questions:
Do they prefer phone calls over in-person meetings?
Do they have a preferred day of work?
When is the most convenient time?
The more you optimize on their convenience, the better will be your customer experience. But it doesn't end there.
You need to ensure you give your clients end-to-end support in their accounting management. You can start by being explicit about the fundamental requirements you need to set your joint venture for success. Educate them whenever necessary.
Following the above tips will prepare you to successfully transition into the next phase of your service.
5 Steps to Onboarding Clients for an Accounting Firm
Creating a successful onboarding experience needs you to standardize a framework that can yield you optimal results repeatedly. The following section gives a detailed walk-through of the five steps you need to take for a smooth onboarding experience.
Using a client onboarding checklist for your accounting business is an efficient way to ensure you collect all the information you require for the project.
Let's begin.
Onboarding Step #1: Understand Your Ideal Customer
As the  popular adage goes: "If everyone is your customer, then no one is your customer." This means if you are not niching down your service to serve a particular profile, experiencing success is difficult.
The foundation of setting up a successful accounting process starts with a comprehensive understanding of your customers. Here, you need to do some digging.
Find out the core pain problems of your ideal customer. Trace out their average day at work. Map their psychographics. This will give you a detailed understanding of their frustrations, goals, and what they care about.
You can then create a custom checklist of resources that can cater to alleviate their unique challenges in the least possible time. A simple survey form is more than enough for this.
Onboarding Step #2: Pre-Qualify Leads on Your Website
Ideally, you would want to treat all your customers with the same level of dedication and service. But each prospect is different in their flesh-and-blood mind and deserves specialized treatment.
That is, every prospective lead you meet on a discovery call is not the same. They vary in terms of goals, resources, and budget. Therefore, putting a filter to distinguish high-quality leads from redundant ones is so critical to see growth.
After all, if you are not motivated enough for the services you offer to your clients, your client experience suffers.
These steps will help you sift the grains from the chaff:
1. Define the attributes of your most valuable customer. This will give you an idea of  what to look for in a prospective client.
2. Define your firm's core values. Find out if these customers are in alignment with your company goals.
3. Trace the red flags. Knowing what qualities are desirable is only one side of the coin. You also need to know what attributes are not acceptable. This will  acquaint you with both dos and don'ts of your targeting plan.
The best part is you can do this by setting up a basic lead qualification form on your website. All you need to do is ask the questions that give you answers for the above attributes.
You can compare their answers to your standardized document and classify the prospects easily.
Onboarding Step #3: Set the Right Expectations
Setting the right expectations about the deliverables for your client can be the stepping stone for a sustainable firm-client relationship.
Done right, it will keep every miscommunication and dispute at bay, fostering transparent communication for the smoothest workflow. But the question is how to do it right.
Here is how.
1. Start with basic research: Always perform basic research and preparation for your initial discovery call with your prospective client. This will streamline the process from the start. More importantly, you will come out as much more strategic and professional in front of your prospects.
2. Know your customer: As you jump into the call, try to familiarize your clients instead of selling your services. Let them talk about their problems and pain points. Your main goal in this call is to get as much information from your client as possible. Listen more than you talk.
This will give you a comprehensive understanding of their needs and will customize services accordingly. This process will help you optimize your standardized onboarding from time to time.
3. Prepare a how-we-work document: As you finish understanding your client's accounting needs and demands, it is time to communicate expectations. Preparing a how-we-work document makes sure that you are comprehensive and detail-oriented, and at the same time ensures a standardized way of working.
This document not only enforces trust but also keeps you and your client on the same page. Here you need to get into the nitty-gritty.
Mention the timelines, scope of deliverables, pricing, tools of usage, human resources, and any other important information in this document. Chances are your clients might have a question or two.
You can update the document accordingly, but initiating this procedure will keep your complete process turbulence-free once initiated.
Onboarding Step #4: Close the Deal
After you have successfully onboarded a client, had the initial discovery call, it is critical that you keep up the momentum for the final conversion. If you keep your prospective clients waiting for too long, chances are they will never return.
Therefore, getting started on defining an action plan after the first meeting is vital.
Preparing a checklist with respective timelines can keep your prospects engaged without overwhelming them. Also, following up with your clients can be the determining factor for your client's lifetime value with your firm.
Ensuring if they are happy with your service and understanding how you can improve will only strengthen your relationship. As a standard practice, two weeks into the relationship, you can initiate regular feedback communications. This will show them that you care and value their business.
Onboarding Step #5: Use A Client Intake Form
If you have to set up a successful accounting service, the first thing you need to do is understand the requirements of your client inside out. No matter what you are trying to doing for your client, prioritizing tasks based on their goals and urgency can become daunting.
Understanding the requirements your clients want you to fulfill is tricky. Chances are you will fall prey to miscommunication and misinterpretation. This is why asking the right questions is critical.
The quality of questions has a direct impact on the quality of service you deliver to your clients. But once you have finalized the questions, the task becomes simple.
A client intake form can automate the process of collecting information.
Here are a few questions that can help you understand the scope and limitations of the prospective client.
1. Understanding service-client fit is critical before you initiate any relationship with your prospect. Find out what existing problems they are experiencing. Do you have a service to directly alleviate such problems? If yes, how?
2. Gathering foundational information for the desired goals is one step further toward realizing them. This means your client intake form is not only about general information like the client's name and business name. The key is in the details.
Ask your client about their past experiences amd specific challenges they faced along with the exact situation of the problem. This will give you context to work upon the best solution for your client.
3.   Asking about your client's expectations and requirements is critical. Assuming your client's goals from their experience history and pain points can be the biggest mistake you make while onboarding clients.
While some needs are explicit, others can be  implicit. It is always better to have a written agreement between you and your client about the expectations and deliverables that both of you see in this new relationship.
4. The next thing you would like to get a clear idea about should be their budget. Your clients might have multiple goals to meet in their accounting journey, yet be on a shoestring budget. This means you need to explain the limitations of your work to ensure your business is protected from any out-of-scope expectations that might occur.
5. Checking your client's history: may seem the last thing you want to do. But answering these questions will help you make a confident onboarding decision. Asking questions regarding financial records, business data (not sensitive), and other relevant information that can influence the overall quality of the relationship can make you future-proof from  unanticipated hassles.
What Happens After the Intake Form?
Achieving a sustainable relationship with your clients is the result of a smooth onboarding process and superior customer experience.
Your thorough onboarding process ensures that your customers feel familiar and comfortable with your brand. But to optimize engagement and retention, you need to go deeper.
Put the information you collected with your intake form to use.
Analyze the patterns of attributes in your prospective clients to develop an ideal customer avatar. This will help you standardize services on the basis of client profiles while you can personalize the services simultaneously. The best part?
There are multiple tools and software that can help you achieve these goals.
Client Hub is surely the champion of all. Integrating the power of efficient onboarding with customer experience, this platform masters CRM (customer relationship management).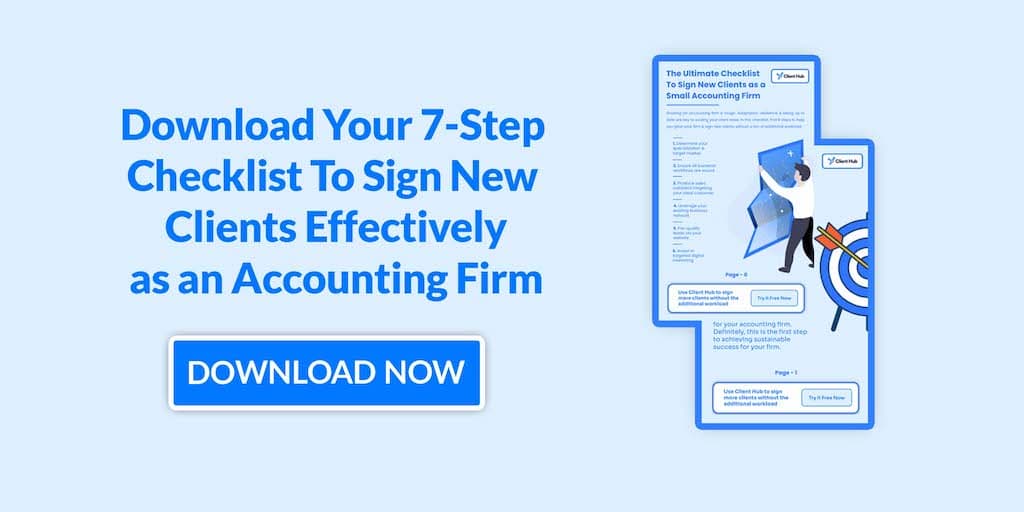 Frequently Asked Questions
What should be included in client onboarding?
1. Calls and meetings with clients
2. Client onboarding questionnaire
3. A roadmap setting expectations and information
4. A contract properly written including all the clauses
5. Point of contact for the client
How do you onboard a new accounting client?
1. Discover call
2. Understand their business model
3. Gather customer information
4. Set the right expectations
5. Standarize your accounting technology
6. Send contract to sign
What is customer onboarding process?
Client onboarding process is the first stage of building a sustainable relationship with new clients. It is a process designed to personalize your services and create a smooth workflow that can give the best customer experience for your new clients. This process often starts with a face-to-face or online meeting to identify your customer needs, preferred working style, and set mutual expectations.